Learning Through Play Training: Dec 2018
Everyone really enjoyed the training on Learning through play in the early years. Areas addressed were the holistic benefits of play, types/areas of play developed within the early years at school and ways in which parents can promote learning through play at home and in the community. Parents had the opportunity to explore the practical resources, experiment with the play materials and they even made some slime to take home!
Urban Community Chef: September 2018
As part of Exrended Schools we had the delight of welcoming Mark and Gobi into Clifton. This focused on Healthy Eating, simple receipes as well as staff team building. We all found this beneficial to our school environment as well as working together to gain an outcome.
Jump, Jiggle and Jive: September 2018
We were delighted to welcome Jump, Jiggle and Jive back into Clifton School. This was part of our Extended Schools as well as focusing on Ages and Stages through our Getting Ready to Learn Programme.
Makaton Sessions with Bangor Grammar
We were delighted to welcome the Bangor Grammar Students and staff to Clifton School for an Introductory Course on Makaton. Mr Gilmore places alot of input into our school during the Christmas Festivities and we were happy to provide some new skills/experiences back to the pupils.
Bingo Night
Bingo night was held at Clifton on the 17th October as part of our Extended Schools work. Prizes included: family pass to Streamvale Farm, vouchers from Airtastic, Aurora and Pirate Golf at Dundonald. Thank you to everyone who attended.
Football with Johnny Taylor
We are delighted to welcome back Johnny to Clifton this year. Johnny plays defence for Ards Football Club and is like a celebrity to everyone at Clifton. Class 4s are certainly enjoying his coaching again.
Harvest 2018
Clifton celebrated Harvest on Friday 19th October. We had Rachel from Scripture Union as our guest speaker. Thank you to everyone who donated food items for Storehouse. We had a positive response. These items will be collected on Monday 22nd October.
Releasing Rhythms
We enjoyed our Extended Schools Cluster today with Releasing Rhythms! Thank you for a wonderful morning!
Make and Take Workshop
Thank you to our Parents and Colleagues who attended our workshop this morning . This was through our Getting Ready to Learn programme.
Fire Engine comes to Clifton
We had a fantastic day with the Fire Engine coming to Clifton.
Maths/STEM Garden
Anna joined us yesterday through Creative Pathways to commence our Maths/STEM garden. Maths continues to be our Extended Schools focus this year.
Guide Dogs come to Clifton!
Community Nursing
We are delighted to welcome Paula into Clifton to focus on a range of personal development areas
Voting stations
Our students completed their voting for Student Council 2018-19. Every child came to vote for who they wanted to represent their views across school . We want to congratulate all our candidates who completed some amazing promotional posters
Fruit Workshops
The Primary Department thoroughly enjoyed their workshops with Tesco. This focused on healthy eating/living and making good choices.
Replay Theatre - Closer
Our Pupils had a magical time with Replay and their showcase Closer. Thank you to everyone involved - our pupils and staff thoroughly enjoyed your time with us.
The Sunflower Challenge!
Clifton has undertaken the sunflower challenge through our Extended Schools programme. Which class will grow the biggest sunflower??? The race is on!!
School clear up
We had a fantastic morning as a school completing a school clear up. We filled lots of bags and counted as we went. Thank you to all our pupils for their efforts and making the school a much tidier place.
Harvest October 2017
Thank you to everyone who donated items for our Storehouse Collection.
Bangor Grammar School Christmas Party
Students at Clifton enjoyed another fantastic Christmas party with the Students from Bangor Grammar. Every year we have a spectacular showcase presented to us and all our pupils thoroughly enjoy it. A huge thanks goes to the Grammar School staff and students for their continued support.
Parental Makaton Workshop January 2018
As part of our Extended Schools Funding Carrie Robb and Liz Harvey presented a Parental Workshop. All Parents thoroughly enjoyed this taster session and found it useful for the home setting.
Lego Therapy Training January 2018
Staff completed Lego Therapy training in January following our kind donation from the Bangor Grammar Boys in December. We now have our library set up with Lego which our classes avail of during the week.
Bag Book Workshops for Pupils, Staff & Parental Training February 2018
Nina travelled from London to provide a most enjoyable day for the pupils at Clifton School. We heard a range of multisensory stories about the fairground and pirates. Staff and Parents participated in a workshop after school on how to include such stories in the home or classroom. This was funded by GRTL and Extended Schools.
Safer Internet Day February 2018
Clifton School celebrated Safer Internet Day on the 6th February. We had an interactive presentation by the PSNI and even one of our staff took part!
Bake For Syria February 2018
As part of our Rights Respecting Level Two Action Plan all pupils took part in the Bake for Syria. A range of yummy treats where produced across all school and as you can see from the pictures all our pupils and staff had a great time! We raised a massive £125.
Make And Take Workshop February 2018
Clifton held a make and take workshop for Parents and Professionals under our GRTL Funding. It was great to see so many in attendance and they were put to work making a range if visuals for their home/work setting. Enjoy using your end products!
Internet Safety for Staff and Parents
Thank you to the PSNI for talking to our staff and parents on Internet safety.
STEM Workshop 6th March 2018
Our Secondary Department had a fantastic day in our STEM workshop with Dominic and the Students from Glenlola. We made some playground ideas using Kinex followed by Rocket making! All pupils participated extremely well and enjoyed the day.
World Book Day 8th March 2018
The weather did not prevent Clifton from celebrating World Book Day on the 8th March. All classes attended the library to read a class story. Our pupils looked amazing as a range of various characters!
PSA Staff Appreciation Day 9th March
The staff PSA hosted a Staff Appreciation Day in Clifton. We are all very grateful to the hard work placed into todays events. So many treats were provided and the Staff would like to say a massive thank you!
Rev Dr Ralph Waller visits Clifton School 12th March
Today Clifton School welcomed Rev Dr Ralph Waller who is the Principal of Harris Manchester College Oxford and the Director of Farmington Institute. Chloe is currently working alongside the College to complete her Scholarship. We wish her the very best of luck and look forward to her returning to work afterwards.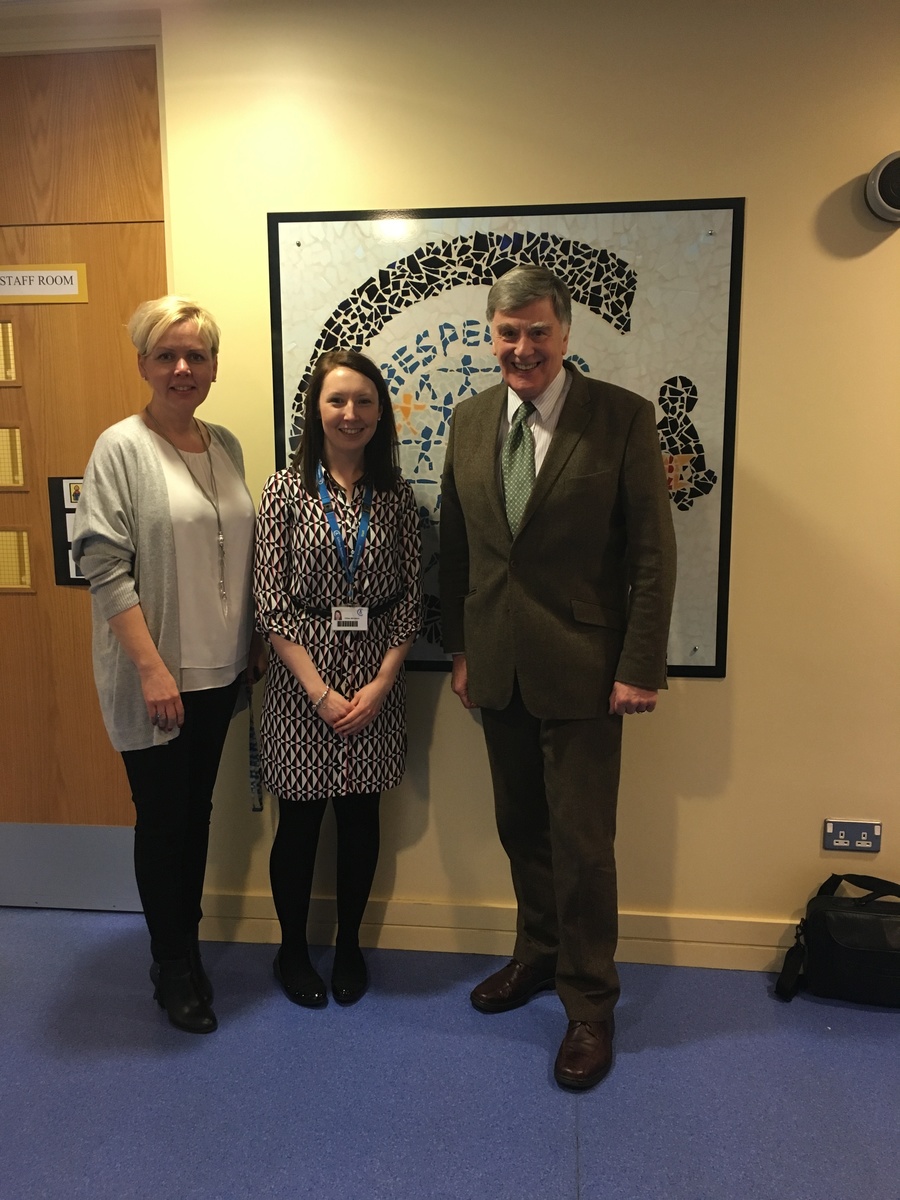 Easter Assembly
On the 23rd of March we celebrated our Easter Assembly on the theme: People Who Help Us. We were joined by a range of people from our local community who had thought of our School in fundraising events. Our Assembly was led by Rachel Kirker. We are extremely grateful to everyone who joined us this morning and their time given to our school.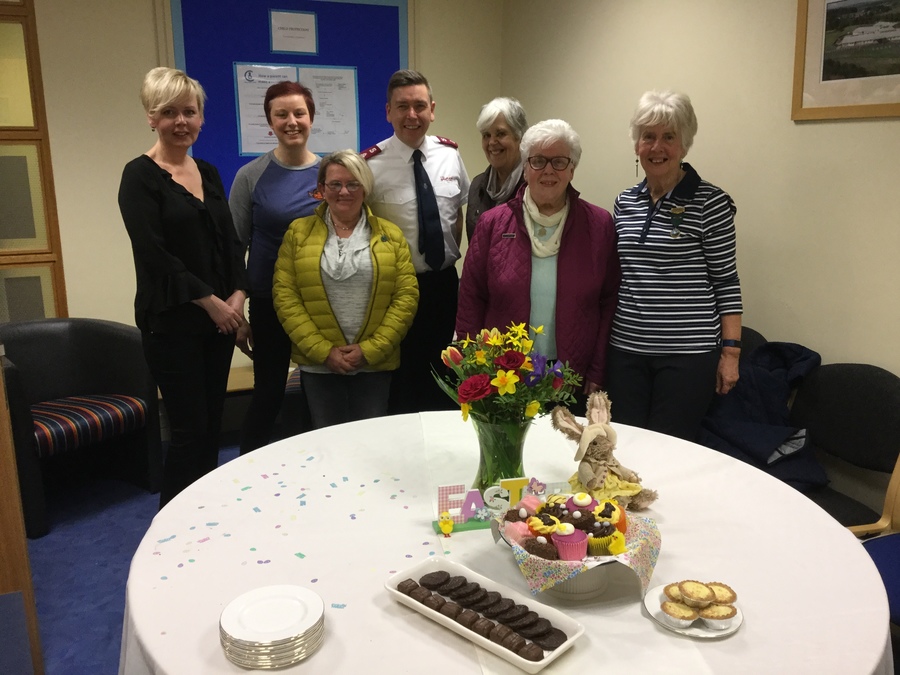 Easter Bonnet Parade
Our pupils took part in an Easter parade showing off all their beautiful hats they made. Don't they look great!
Family First Awards
A massive congratulations to Morag Swift on receiving Best Teacher through Family First Awards. Clifton School also received Best Supported Needs School. A fantastic achievement for Morag and School.
Mascot Polling Station
On 26th March Clifton pupils entered our Polling Station to vote for their Rights Respecting Schools Mascots. We had a lot of fun in the voting process and results will be updated once votes are counted and verified.
Releasing Rhythms
Thomas from Releasing Rhythms came to Clifton to present a workshop to classes 1s - 3s. This was an extremely fun and interactive session, funded by Extended Schools.
Mr Hullabaloo visits Clifton!
Our Secondary Department had a fantastic time watching Mr Hullabaloo and the story of the Three Little Pigs. Thank you from everyone at Clifton for such an enjoyable afternoon!
Raising Children in a Challenging World Parental Workshop
We were very grateful for Joanna Brown to attend Clifton for a parental workshop. She provided a lot of advice for our parents and proved extremely beneficial to all in attendance.
Parental Recital
Four of our Secondary Classes enjoyed showing off their Djembe skills to their families. Thomas, from Releasing Rhythms had been working alongside our students for two weeks. Following our parents had the opportunity to perform also - we were all very impressed with their skills!
Multi - Cultural Day
We celebrated Multi - Cultural Day on the 27th April as part of our Rights Respecting School ethos. We were delighted to welcome Ballymagee Primary School, Rodney from The Music Rooms and Mark Moorhead into School to take part in our assembly.
NIPDS Recital
Pupils from class 1s and 4s participated in a recital to a group of parents. All pupils performed extremely well and received a certificate for their ten week programme. Thank you to all the Parents who attended.
DJ Workshop
Class 4s have commenced their DJ Workshops in preparation for our PSA BBQ Disco. Gleave will work through a range of DJ Skills/techniques before recording mixes for the disco on the 8th June.
School Formal
We had a fantastic evening in La Mon for our annual school formal. All our pupils and staff looked fabulous dressed for the occasion.
Only One You
On the 18th May we celebrated individuality through our story Only One You. Every pupil painted a stone to represent themselves for our garden. Gill has worked hard in creating a beautiful area at the front of the school for our stones to go to.
First Aid
Charlie from Emergency Care NI completed staff, parent and pupil workshops through our Extended Schools Cluster finance.
Road Safety
The Road Safety visited Clifton in June. Our Upper Primary and Secondary classes enjoyed watching safety videos and sitting in the truck.
Musical Showcase
Lauren and Hannah from Rich Music held a showcase for three of our classes. We had a fantastic parental response and we were delighted to see everyone join us at Clifton. Thank you to Lauren and Hannah and we wish you a pleasant summer break!
PSA BBQ
We have a fantastic evening at our annual BBQ. MASSIVE THANKS to our PSA for organising this event. We also want to thank our staff and families for their continued support.
Scholastic fair
The Scholastic Fair has arrived! It will stay from the 15th June to the 22nd June. Make sure you call in and see us!
Rights Respecting Schools and Clarks Shoes
Thank you to everyone who donated shoes for our Rights Respecting focus. Judith arrived this morning to collect our donations.